The SingMasters SM500 is an ultra-compact Digital Karaoke System which plays all its songs from a removable SD Card (max 32GB capacity) which is inserted on the side of the unit. It comes with a full function remote control and 2 wireless microphones for your singing enjoyment. It also has a fully featured MP3+G Karaoke playback interface that lets you play, record (your performance), change the key & tempo, add echo to the microphones and also supports Multiplex (MPX) songs in both MP3+G and MP4/AVI formats so you can switch on and off the cover vocalist as needed. The SingMasters runs from a single SD Card with a maximum 32GB capacity, but it has the amazing ability to play pretty much any video format you want, it's truly an open system, playing of course MP3+G songs but all of these: MKV, MP4, AVI, MPG, WMV, MOV, FLV, RM and VOB. This means you can load any type of karaoke songs you want, even your own language, as long as it's in one of the above formats. The SingMasters even creates a song book of all your MP3+G songs, which you can then print out, enabling you to quickly play back any song. It is also MP4 HD Karaoke song compatible , plus and this is a big plus it is also compatible with all these other video formats; AVI, MKV, MPG, WMV, MOV, FLV, RM and VOB. This truly means that you can essentially load anything on to this Karaoke Systems SD Card and play it back.The SingMasters supports both the standard red/white/yellow RCA connectors as well as HDMI connection.
If you've seen and like the Magic Sing Karaoke System then you are going to love the SingMasters as this is the next step up, the very latest!
Its smaller and more flexible as you can configure this system to play just about anything video format from the SD Card slot. (MP3+G / MKV / MP4 / AVI / MPG / WMV / MOV/ FLV / RM / VOB)
No other system gives you this level of flexibility and that means you are not locked in to one specific format.
Compatible with Video Karaoke from YouTube
Additional Languages can be added, see SingMasters.com
The SM500 is our latest karaoke model developed on the basis of customer feedback received over the past several years. It has a host of features not found on any of our other Karaoke models like:
Two wireless mics paired with the unit to provide a plug-and-play experience to the users.
Playback of Karaoke tracks downloaded from the web, Youtube and other places with a superior audio-visual experience and functions like Tempo and Key control.
Visual guide showing the user if he is in tune with the song or missing a few beats.
Live Scoring so you can measure your performance as you sing.
Easy Recording you can record your songs with just the press of a button. Also, you have an option to Replay and review your recording before you save it.
Convenient Song Search through Titles, Singers, Word Search and Song Book
A 16GB SD card boasting the largest ever collection of songs.
Very lightweight, less than 1Kgs without packaging.
Plays MP3+G, MP3, MP4,AVI and other popular audio and video file formats
Supports 480p and 720p video output
Customize on-screen backgrounds with your pictures or videos!
Vocal On/Off, Volume, Echo, Tempo, and Key Controls
Supports up to 32GB SD Cards (Up to 20,000 CDG Karaoke Songs or 8,000 Video Karaoke Songs)
Warranty
All purchases made through website or dealers contain 1 year full warranty.
2.4 GHZ Wireless Microphone
Wireless Microphones Distance up 100 feet max (As per test condition).
I-Fun
A dynamic real time scoring function.
I-FUN will catch up every pitch and showing on the screen when singing.
Can be used to learn new songs.
And can be switched off and on.
Song Reserves
Song Reserve up to 150 songs.
Song Favorite up to 150 songs and store your favorite songs which you sing again and again.
Select Song List by Alphabet, Number by songbooks.
Plug & Play
Simple Connect HMDI or RCA Cable to TV
Set your TV to External Video Mode
Play and Enjoy Singing
Other Features
Sing & Record.
Real time scoring to improve your ability
Switch off – on original singers voice (for Vocal songs only)
One Wireless MIC
Full function remote control
Pitch Control to be a perfect singer
Can connect Extra mic
Alphabetical & Numerical song search
Key (Scale) control to suit your voice
Echo control
Music & Mic Volume Increase/Decrease
Digital 2.4 GHz Microphone
Song Library
| Sr. No. | Language | No of Songs |
| --- | --- | --- |
| 1 | Russian | 6979 |
| 2 | English | 13000 |
| | | |
For detail of Song name,Song Number,Singer name check the song list below:
Songs List:
SingMasters Karaoke Unboxing Video:
SingMasters Karaoke User Interface Demo Video:
SingMasters Russian Karaoke Demo Video:
Why SingMasters?
We strive to provide the best customer experience what ever you purchase from us. You get the best customer service, after sales support and a brand you can trust.
When you shop with SingMasters- you're not just buying a product, you're buying a service and life time support.
SingMasters TV Box is a "plug & play" system for enjoying Karaoke!!!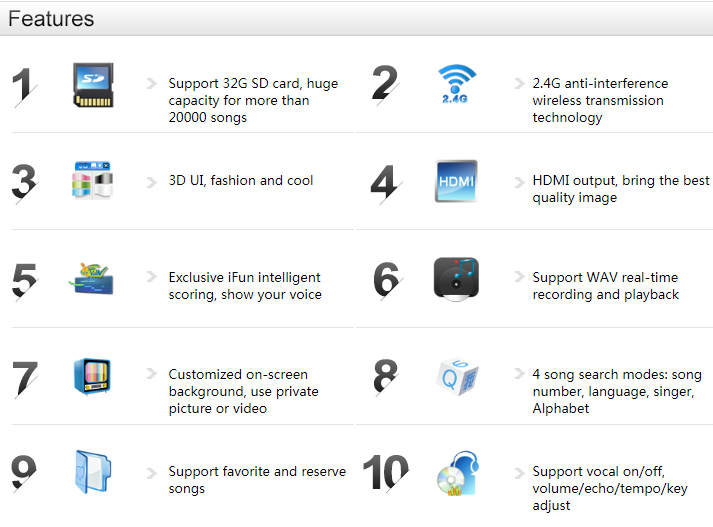 Specifications:
Product color
Silver Black
Product Dimension
151mm×115mm×24mm(Control Box)
41mm×41mm×273mm(Microphone)
Product weight
164g(Control Box)
131g(Microphone)
Frequency Range
2400-2483MHz
TV Output
HDMI/CVBS
Output resolution
1280×720,720×480(NTSC),
720×576(PAL)
Language
English
Song Language
HIndi/English
Song quantity
Maximum 20000pcs, Record 50pcs, Reservation 100pcs,Favorite 100pcs,
My download 100pcs.
Background pictures quantity
Built-in 50pcs,User 100pcs
Input method
Microphone/Remoter control
ROM
2 GB
Multimedia Card
SD Card/ Maximum 32GB
Data interface
Micro USB
A/V Socket
3.5mm
External Mic socket
3.5mm
Multimedia
video display/MP3 playback/
Audio format
WAV/MP3/OGG/WMA/AAC
Video format
MKV/MP4/AVI/MPG/WMV/MOV/FLV/RM/ VOB
Receiver
Frequency Range: 2400-2483MHZ
Using Channel: 16ch
TV Channel: Video Channel
Dimensions: 116mm x 101 mm x 24mm
Weight: 127g
Voltage: 6.0V (+/-0.3V)
Wattage: I.8W
Resolution: 720*480 (NTSC), 720*576(PAL)
Image color: Index 256 color
Operation Tempreture 0-500
Power Supply: 100-250 v AC 50Hz
Microphone
Frequency Range: 2400-2483MHZ
Using Channel: 16ch
RF Output Power: 4dBm
Power Requirement: 300mW
Weight: 131 g
Dimensions: 41mm x 41 mm x 273 mm
Package contents:
SingMasters Karaoke unit with SD card slot, HDMI output and USB cable port.
Two wireless mics
16GB SD card with all the songs
Remote Control
HDMI and A/V cables
Power Adapter and Cable
User Guide Manual
Mobile Song Book APP